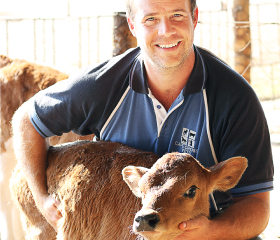 Welcome to Cape Cross Veterinary Services
CapeCross is a dynamic and progressive veterinary practice with a wide range of knowledge regarding animal health. We know your pets and livestock are the most important thing to you, which is why we offer tailored guidelines and a wide range of services to make sure they stay as healthy as possible. Whether it be a routine vaccination or the treatment of a serious illness, our dedicated team of veterinary surgeons and support staff work tirelessly to ensure the best care for your animals. CapeCross is one of the most reliable veterinary practices in South Africa and have been treating animals for over 20 years. CapeCross is reliable, approachable and caring. We strive to become the most influential rural veterinary group in South Africa, specialising in the livestock industry.
Everything you (and your animals) need
Want to contact your closest CapeCross?
Contact details and opening hours for your nearest CapeCross can be found on our website.
Find a practice