Hill's Feline Kitten M/Pack 85g
R14.35 Excl. Vat
Out of stock (Can be placed on backorder - price may vary/change)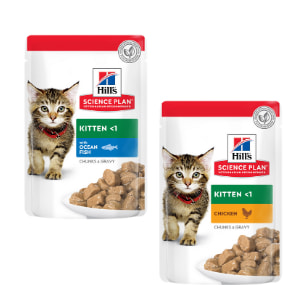 Product description
Great tasting nutrition for a long, happy life. With high-quality ingredients and the right nutrients, HILL'S SCIENCE PLAN is precisely prepared to offer your cat the nutrition needed for lifelong health and happiness.
Hill's® Science Diet® Kitten Healthy Cuisine Roasted Chicken & Rice Medley STEW combines the delicious flavors of roasted chicken and rice in a mouthwatering sauce – canned cat food with the perfect balance of taste and nutrition for your cat.
High-quality ingredients ensure the availability of key nutrients and proteins for your kitten.
High-quality protein for building lean muscles.
Made with purposeful ingredients for a flavorful, nutritious meal.
Clinically proven antioxidants, Vitamin C+E, for a healthy immune system.
Balanced minerals for strong bones & teeth.
Recommended for: Kittens, from weaning until 1-year-old and pregnant or nursing cats.