Montego Classic Cat
R184.59 – R308.80 Excl. Vat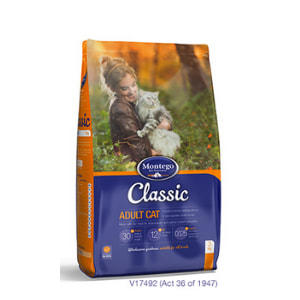 Product description
The Montego Classic Cat Food, made with real meat for bioavailability and optimal nutrient absorption, is complete and balanced, enticingly delicious, and highly digestible nutrition for adult cats.
BENEFITS:
30% Protein for a strong body: The high-quality proteins derived from chicken and fish help to build and maintain strong muscles.
0.125% Taurine for a healthy heart & eyes: Taurine is an essential amino acid that cats require to help maintain both heart and eye health.
Omega 6 & 3 for healthy skin & coat: Balanced Omega 6 & 3 fatty acids help nourish the skin – ensuring a soft, shiny coat!
3.5% Fibre for digestive health: The combination of high-quality, natural sources of both soluble and insoluble fibres, promotes optimal nutrient absorption and digestive health.
Antioxidants & Vitamins for immune support: Contains the antioxidants, essential vitamins, and minerals cats need to help boost their immune systems keeping them healthy and strong!
Balanced calories & fat for a healthy weight: The calories from protein and fat are carefully balanced, helping to maintain an ideal, healthy body weight.