AD3E
R206.82 – R965.43 INCL VAT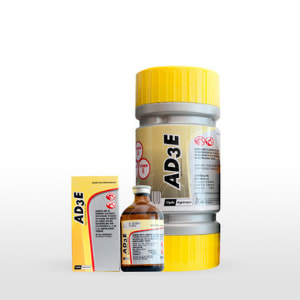 Product description
DIRECTIONS FOR USE: Ready-to-use oily injectable vitamin solution for cattle and pigs for the treatment of avitaminosis A, D, and E as a supplementary therapy, especially in the following cases:
Antimicrobial and antiparasitic treatments
Convalescence
Pregnancy
Delivery
Stress
Pasture-fed cattle during drought periods.
DOSAGE: Injectable Vitamin for Cattle and Pigs.
Cattle: 2 mℓ AD3E per adult animal.
Pigs: 1 mℓ AD3E per adult animal.
Please note, we offer payment terms for approved businesses. To apply, please complete and submit the application form.