Amipor Pour-On 20L
R3675.64 Excl. Vat
Only 1 left in stock (can be backordered)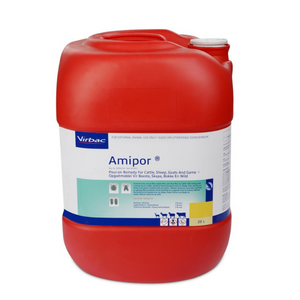 Product description
Controls ticks, house flies, stable flies and face flies on cattle. Kills biting and sucking lice on cattle. Controls Karoo Paralysis ticks on sheep. Kills Red lice on sheep and goats. Controls ticks on game.
COMPOSITION :
Amitraz 1 % m/v, cypermethrin 1 % m/v, piperonyl butoxide 5 % m/v
CATTLE AND GAME :
Use 10 ml per 100 kg body mass.
Apply 10 ml / 100 kg body mass to back midline of cattle /  game being treated. Application should be done by means of a suitable applicator from the head to the base of the tail. Treat weekly for three weeks. Thereafter treat according to challenge.
SHEEP AND GOATS :
Controls Karoo Paralysis ticks on sheep. Use 2 ml per 10 kg body mass.
For Karoo Paralysis ticks apply approximately a quarter of the dose in each of the four 'armpits' (the axillae and the groin).
Kills red lice in sheep and goats. Use 4 ml per 10 kg body mass. Apply the full dose as a stripe down the midline of the back.
Treat sheep/goats twice 3 weeks apart.
WITHDRAWAL PERIOD :
Animals must not be slaughtered within 18 days of the last treatment.
No withdrawal period for milk usage.
Please note, we offer payment terms for approved businesses. To apply, please complete and submit the application form.
Customers Also Bought...