Bovilis® Vista Once
R291.06 – R1302.30 Excl. Vat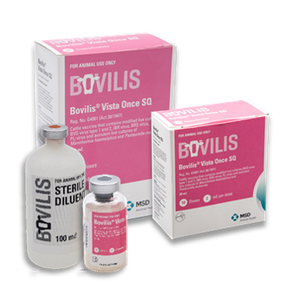 Product description
PRODUCT DESCRIPTION
Bovilis® Vista Once SQ is a modified-live virus vaccine for healthy cattle who are 3 months of age or older. A vaccine to help control respiratory diseases caused by IBR, BVD Types 1 & 2, PI3, BRSV, Mannheimia haemolytica and Pasteurella multocida. Safe for use in pregnant cows as well as for calves nursing pregnant cows as long as the herd has been vaccinated before breeding with any of the modified-live IBR and BVD containing vaccines.
INDICATIONS
Bovilis Vista Once SQ is for the vaccination of healthy cattle, 3 months of age and older, as an aid in the prevention of respiratory disease caused by infectious bovine rhinotracheitis (IBR) virus, bovine virus diarrhoea (BVD) type 1 and 2 and bovine respiratory syncytial virus (BRSV); and as an aid in the control of disease caused by bovine virus diarrhoea (BVD) virus, parainfluenza 3 (PI3) virus, Mannheimia haemolytica and Pasteurella multocida.
COMPOSITION
This product may contain residual streptomycin from the bacterial culture media (necessary growth factor) and residual penicillin/streptomycin from the cell culture media (preservative during virus propagation).
STORAGE
Store between 2 °C and 7 °C.
Do not freeze.
DOSAGE AND DIRECTIONS FOR USE – USE ONLY AS DIRECTED.
Dosage: Inject 2 mℓ of vaccine subcutaneously to healthy cattle 3 months of age or older.
Annual revaccination is recommended.
A revaccination dose can be administered at more frequent intervals based upon individual farm disease risk assessment or anytime epidemic conditions exist or are reported. Consult your veterinarian.
Buy Bovilis Vista Once SQ online with Cape Cross. Vet products online.
Please note, we offer payment terms for approved businesses. To apply, please complete and submit the application form.