Brucella Abortus S19 (Cattle) 50ml
R607.59 Excl. Vat
In stock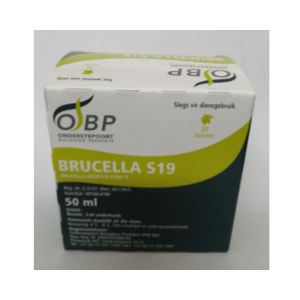 Product description
RECOMMENDATIONS FOR USE: In terms of Table 2 of Government Notice R 2026 of 1986-09-26, all heifers between the ages of 4 and 8 months must be inoculated once against brucellosis. Bull calves are not inoculated. Cattle over the age of 8 months may not be inoculated against brucellosis except with the written approval of a state veterinarian.
WARNINGS: Do not slaughter animals for human consumption within 21 days of vaccination. Vaccinate healthy animals only. Potentially harmful to humans. Keep out of reach of children, uninformed persons and animals. Although it is believed that with ordinary handling, this vaccine is harmless to man, care should nevertheless be taken not to inject the vaccine into humans. Contamination of human eyes with this vaccine should be avoided. If this should occur, rinse the eyes repeatedly with fresh water. In both cases a medical practitioner should be consulted. Although this product has been extensively tested under a large variety of conditions, failure thereof may ensue as a result of a wide range of reasons. If this is suspected, seek veterinary advice and notify the registration holder.
DIRECTIONS FOR USE: Use only as directed. Sterilise syringes and needles by boiling in water for at least 15 minutes. Do not use disinfectants or methylated spirits for sterilising either needles or syringes. Use a separate needle for each animal. Shake the bottle well before use. Avoid exposure of the vaccine to high temperatures and direct sunlight.
DOSAGE: Cattle: 2 ml subcutaneously.
EFFECTS OF THE VACCINE: A slight swelling may develop at the injection site and a mild fever reaction may follow vaccination. A single inoculation of this vaccine will not produce absolute immunity in all animals. Therefore, complete reliance should not be placed on the vaccine alone to control this disease. It is important that a veterinarian be consulted regarding additional control measures. Store the vaccine at a temperature of 4 ˚C to 8 ˚C, in a refrigerator. Do not use after the expiry date printed on the bottle.
Please note, we offer payment terms for approved businesses. To apply, please complete and submit the application form.