Ektoban 1L
R367.06 Excl. Vat
Out of stock (Can be placed on backorder - price may vary/change)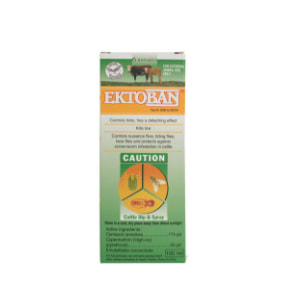 Product description
DOSAGE FORM: Emulsifiable concentrate – cattle dip and spray.
COMPOSITION: Cymiazol (amidine) 175 g/L, cypermethrin (high-cis) (pyrethroid) 25 g/L.
WARNINGS: Extremely toxic to fish. Handle with care. Poisonous by contact, swallowing or inhalation. Store concentrate in original container away from food and feed. Keep out of reach of uninformed persons, children, and pets. Do not slaughter animals for human consumption within 7 days of the last application. Although this remedy has been extensively tested under a large variety of conditions, failure thereof may ensue as a result of a wide range of reasons. If this is suspected, seek veterinary advice and notify the registration holder.
PRECAUTIONS: Do not mix Ektoban with any other dip. Avoid contact with concentrate. In case of accidental skin contact, remove contaminated clothing and wash skin thoroughly with soap and water. Avoid prolonged contact with dipwash or inhalation or spray mist. Do not eat, drink or smoke while mixing or during the use of dip. Prevent contamination of food, food utensils, grazing, drinking water, dams, rivers, etc. Destroy empty containers by perforation and flattening and never re-use them for any other purpose.
DIRECTIONS FOR USE: Use only as directed. Shake well before use. Premix by adding the measured amount of concentrate slowly to double the volume of water whilst stirring. After thoroughly stirring this mixture, add it to the bulk of the water in the diptank or spray race sump. Make sure that in the case of plunge tanks, the larger volume is poured in at the deep end. Mix contents of the tank well before commencing dipping or spraying. It is safe for horses and dogs in cases of accidental contact.
RECOMMENDATIONS:
Spray races: Mix only enough spray-wash for one treatment and do not allow the wash to stand over to the next spraying.
Boosting: Boosting of the spray-wash is accomplished by adding 200 ml Ektoban after every 100 head of cattle.
Hand spraying: Thoroughly wet the animal to the skin, especially under the tail, the ears, and between the legs where ticks cluster.
Dipping intervals: Ticks, flies, and screw-worm: dip or spray weekly. Lice: dip or spray when necessary.
Please note, we offer payment terms for approved businesses. To apply, please complete and submit the application form.