Eraditick 250 10L
R3427.12 Excl. Vat
In stock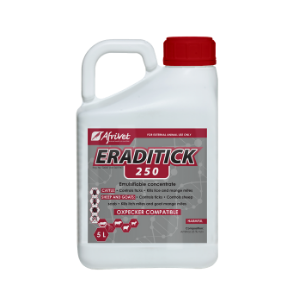 Product description
CONTAINS: Amitraz 25% m/v.
INDICATIONS:
Cattle: Controls tick. Kills lice and mange mites.
Sheep & Goats: Controls ticks. Controls sheep scab. Kills itch mites and goat mange mites.
DOSAGE:
Cattle: Sray: 100ml/100L water. Plunge dip: TR 1L/500L water. Head count system 1L/359 catlle dipped. Fresh fill: 1L/1000L water. Replenishment: 1L/1000L water.
Sheep & Goats: 1L/750L water.
Please note, we offer payment terms for approved businesses. To apply, please complete and submit the application form.