Flukazole C 5L
R3408.99 Excl. Vat
In stock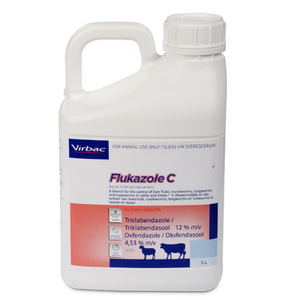 Product description
COMPOSITION: Triclabendazole 12 % m/v, Oxfendazole 4,53 % m/v. The combination of Triclabendazole and Oxfendazole that's proven to have a synergistic effect on early immature liver fluke, geared for optimal liver health.
DIRECTIONS FOR USE: Use only as directed. Shake before use.
DOSAGE: 1 ml / 10 kg body mass orally.
WITHDRAWAL PERIOD: Do not slaughter animals for human consumption within 28 days of dosing. Do not dose lactating cows whose milk or milk products are intended for human consumption. Do not use less than 21 days before calving/lambing, in cows where milk and milk products from treated cows may be used for human consumption.
Please note, we offer payment terms for approved businesses. To apply, please complete and submit the application form.