FulviSan D 5L
R257.40 Excl. Vat
Out of stock (Can be placed on backorder - price may vary/change)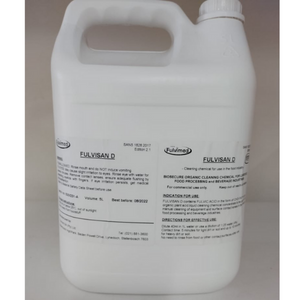 Product description
FulviSan-D® is a dark brown concentrated liquid detergent, contains pure organic plant acids, designed for surface contact disinfectant requirements in the livestock, food processing and beverage industries.
Suitable for floors, walls, ceilings and all types of food processing equipment.
FulviSan-D® produces visible stable acidic foam, which ensures maximum surface disinfectant contact time.
FulviSan-D® is suitable for use in hard and soft water.
Please note, we offer payment terms for approved businesses. To apply, please complete and submit the application form.