Lumpyvax Vaccine for Cattle 100ml
R495.74 – R1395.84 Excl. Vat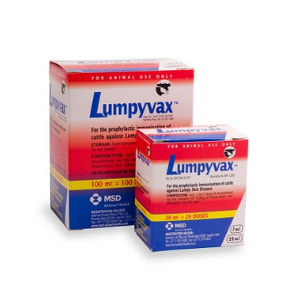 Product description
Lumpyvax Vaccine for Cattle
Lumpy Skin Disease(LSD) is a virus that affects cattle, causing disease with symptoms such as fever, multiple firm skin nodules, mastitis and lymph node swellings. The virus is believed to be transmitted by biting insects. Lumpyvax is a vaccine that can be used to prevent Lumpy Skin Disease in cattle. The 1ml dose contains 104 TCID50 of live, attenuated virus and should only be given when healthy animals are not affected by the infection. It can take as long as 6 months for cattle infected with the Lumpy Skin Disease virus to fully recover. You may inject pregnant cows with the Lumpyvax vaccine. It is best practice that a booster vaccination be given yearly. Immunity starts to develop about ten days after immunisation and cattle should be fully protected after three weeks.
COMPOSITION: Each 1 ml (1 dose) of vaccine contains 104 TCID50 of freeze-dried, live, attenuated virus (SIS type).
WARNINGS: DO NOT SLAUGHTER ANIMALS FOR HUMAN CONSUMPTION WITHIN 7 DAYS OF VACCINATION.
DIRECTIONS FOR USE: Use a sterile syringe to transfer approximately 5 mℓ of sterile diluent to the bottle containing the freeze-dried vaccine. Mix until all the powder is dissolved and then transfer this suspension back to the remaining sterile diluent and again mix well using the sterile syringe. Shake the bottle before filling the syringe. 
DOSAGE: Inject 1 ml per animal subcutaneously.
PRESENTATION:
20 ml (20 doses)
100 ml (100 doses)
Please note, we offer payment terms for approved businesses. To apply, please complete and submit the application form.
Customers Also Bought...