Multimin + Se Cattle Sheep & Goats 500ml
R1818.69 Excl. Vat
In stock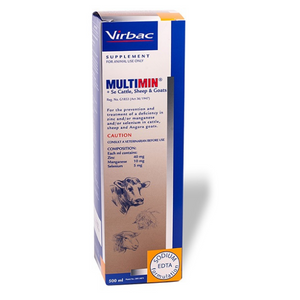 Product description
INDICATIONS: For the prevention and treatment of a deficiency in zinc and/or manganese and/or selenium in cattle, sheep, and angora goats.
COMPOSITION: Each ml contains: Zinc 40 mg, manganese 10 mg, selenium 5 mg.
DIRECTIONS FOR USE: Use only as directed. Inject cattle subcutaneously on the side of the neck. Inject sheep and angora goats subcutaneously on the area devoid of wool immediately behind the shoulder.
DOSAGE:
Cattle Calves: 25 kg – 100 kg bodymass 1 ml/50 kg.
Weaner Calves: 101 kg – 225 kg bodymass 1 ml/75 kg.
Adult Cattle: 1 ml/100 kg.
Sheep & Angora Goats: 1 ml/50 kg.
TREATMENT PERIOD:
Bulls: 3 times per year.
Cows: 4 weeks prior to calving 4 weeks prior to breeding/AI 4 weeks prior to drying off.
Heifers: Every 3 months until breeding.
Calves: 4 weeks prior to weaning.
Rams: 3 – 4 months prior to breeding.
Ewes: 4 weeks prior to breeding 4 weeks prior to lambing.
Lambs & Angora Kids: 0,5 ml at weaning (minimum 25 kg bodymass). Thereafter 1 ml every 3 months until breeding.
Please note, we offer payment terms for approved businesses. To apply, please complete and submit the application form.