Noromectin 1% Injection 50ml
R94.77 Excl. Vat
Out of stock (Can be placed on backorder - price may vary/change)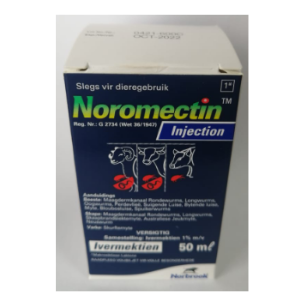 Product description
An ivermectin-based parasiticide for the effective treatment of a wide range of internal and external parasites of beef cattle, dairy cattle of non-breeding age and swine.
One low-volume dose for effective treatment and control of internal and external parasites, including gastrointestinal roundworms, lungworms, grubs, sucking lice and mange mites
The active ingredient – ivermectin – provides convenience, broad-spectrum efficacy and a high margin of safety
Please note, we offer payment terms for approved businesses. To apply, please complete and submit the application form.