Ovi-Min
R238.78 – R964.70 EXCL VAT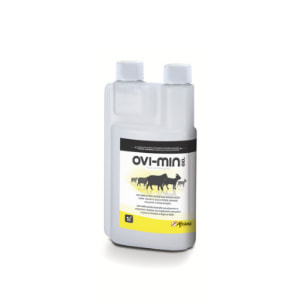 Product description
Indications:
Ovi-Min provides essential trace minerals and fat-soluble vitamins to assist in fertility, immunity and growth in sheep and goats
Composition:
100ml gel contains:
Vitamin A 50 000 iu
Vitamin D 2 500iu
Vitamin E 100 iu
Manganese 200mg
Selenium 20mg
Zinc 600mg
Magnesium 1000mg
Cobalt 15mg
Lysine 2000mg
Dosage and directions for use:
Indicated for oral administration only
Shake well before use
Apply dose directly to the tongue
Lambs: 8-10ml
Adult sheep: 20-25ml or dilute 6ml per 10 L water daily for 5 days
Storage instructions:
Store below 25 degrees Celcius in a cool, dry place.
Read the product details here.
Please note, we offer payment terms for approved businesses. To apply, please complete and submit the application form.