Pectospeed 3kg
R678.00 Excl. Vat
In stock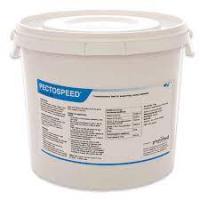 Product description
PECTOSPEED
Pectospeed is a formulation that regulates intestinal tract, designed for calves and piglets with digestive disorders manifesting as diarrhea.
How to use: In the case of threat, during or after digestive disorders (diarrhea). Consult a veterinary doctor before use.
Duration of use:
Calves: In diarrhea, withdraw milk or milk-replacer. Mix 100 g of Pectospeed in 2 litres of warm water ( 38°C) and feed the calf. If needed, administer Pectospeed again.
Piglets:  Mix 5 g of Pectospeed in 100 ml of warm water. Feed the piglets with a dose of 6-7,5 ml per 1 kg of bodyweight. Pectospeed should be adiministered 1-3 times a day depending  on the intensity of diarrhea.  During the administration of Pectospeed  piglets can stay with a sow.
Please note, we offer payment terms for approved businesses. To apply, please complete and submit the application form.