Piliguard Pinkeye-1 Trivalent 100ml
R774.68 Excl. Vat
In stock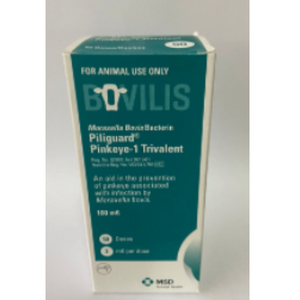 Product description
INDICATIONS
For use in healthy cattle to aid in the prevention of pinkeye associated with infection by Moraxella bovis strains expressing pili similar to those expressed by isolates referred to by MSD Animal Health as Strains EPP 63, FLA 64 and SAH 38.
COMPOSITION
Contains chemically inactivated cultures of Moraxella bovis isolates referred to by MSD Animal Health as strains EPP 63, FLA 64 and SAH 38 in an oil emulsion adjuvant.
STORAGE
Store between 2 °C and 7 °C.
Do not freeze.
WARNINGS
Withdrawal period: Do not vaccinate within 60 days prior to slaughter.
Hypersensitivity reactions may occur with a biological product and can cause temporary reduced milk production in lactating cattle.
Extreme caution should be used when injecting any oil emulsion vaccine to avoid injecting your own finger or hand. Accidental injection can cause serious local reaction. Contact a physician immediately if accidental injection occurs.
Use may occasionally lead to development of granulomas which may persist for several weeks.
Transient local reaction may occur at the injection site. If allergic response occurs, seek veterinary advice.
KEEP OUT OF REACH OF CHILDREN, UNINFORMED PERSONS AND ANIMALS.
Although this remedy has been extensively tested under a large variety of conditions, failure thereof may ensue as a result of a wide range of reasons. If this is suspected, seek veterinary advice and notify the registration holder.
PRECAUTIONS
Discard any unused product as well as all empty vaccine containers and vaccination equipment according to local waste disposal regulations and do not reuse for any other purpose.
DIRECTIONS FOR USE – USE ONLY AS DIRECTED
Shake well before use.
The vaccine may be warmed to room temperature prior to injection.
Inject 2 mℓ subcutaneously or intramuscularly into the neck 3 to 6 weeks prior to onset of pinkeye season.
Annual revaccination is recommended.
Please note, we offer payment terms for approved businesses. To apply, please complete and submit the application form.