Prodose Blue 5L
R1465.75 Excl. Vat
Only 2 left in stock (can be backordered)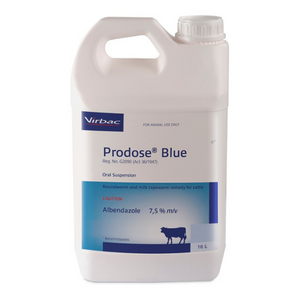 Product description
COMPOSITION: Albendazole 7,5 % m/v.
DIRECTIONS FOR USE: Use only as directed. Shake well before use.
DOSAGE: The dose is 1 ml per 10 kg body mass.
WARNINGS: Do not slaughter animals for human consumption within 12 days of dosing. Do not dose lactating cows whose milk or milk products are intended for human consumption. Keep out of reach of children, uninformed persons, and animals. Although this remedy has been tested under a large variety of conditions, failure thereof may ensue as a result of a wide range of reasons. If this is suspected, seek veterinary advice and notify the registration holder. Management practice should ensure that drenching procedures are carefully carried out. It is important not to exceed the recommended dosage in cows during the first month of pregnancy.
STORAGE INSTRUCTIONS: Store at room temperature below 25 °C.
Please note, we offer payment terms for approved businesses. To apply, please complete and submit the application form.