Reverin 135 500ml
R293.61 Excl. Vat
In stock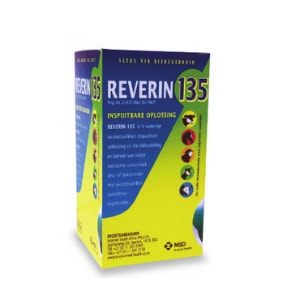 Product description
PRODUCT DESCRIPTION
Reverin 135 is an injection used for the treatment of heartwater, tick-borne gall sickness, pneumonia, navel ill, joint ill and footrot in livestock as well as strangles in horses. Always consult a veterinarian first for a correct diagnosis to ensure a rapid recovery.
COMPOSITION: 135 mg Oxytetracycline per ml.
WARNINGS: TREATED ANIMALS MUST NOT BE SLAUGHTERED FOR HUMAN CONSUMPTION WITHIN 28 DAYS OF LAST TREATMENT MILK FROM TREATED COWS MUST NOT BE USED FOR HUMAN CONSUMPTION WITHIN 7 DAYS OF TREATMENT.
How to administer Reverin 135?
Administration by intramuscular, subcutaneous, or intravenous injection. When injecting intramuscularly, inject into the muscle of the mid-neck area using a needle of not more than 30 mm in length. Do not inject more than 20 ml at one site. Massage the area after injection to enhance absorption and minimise swelling. When using the intravenous route, inject slowly and pause if any discomfort is shown.
DOSAGE:
Normal Use:
Cattle and horses: 8 ml per 100 kg body weight.
Sheep & Goats: 4 ml per 50 kg body weight.
Pigs: 2 ml per 30 kg bodyweight.
Long-acting use: (When a higher efficacy and longer action are required. The long-acting dose must be administered by the intramuscular route only.)
Cattle: 16 ml per 100 kg bodyweight.
Sheep & Goats: 8 ml per 50 kg body weight.
PRESENTATION: 500 ml
Buy Reverin 135 online with CapeCross. Vet products online.
Please note, we offer payment terms for approved businesses. To apply, please complete and submit the application form.