Startvac 25 Dose
R1378.85 Excl. Vat
Out of stock (Can be placed on backorder - price may vary/change)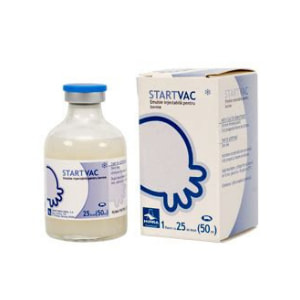 Product description
The full immunisation scheme induces immunity from approximately day 13 after the first injection until approximately day 78 after the third injection (equivalent to 130 days post-parturition).
DIRECTIONS FOR USE: Intramuscular use. The injections should be preferably administered on the alternate sides of the neck. Allow the vaccine to reach a temperature of +15 to + 25 °C before administration. Shake before use.
DOSAGE: Administer one dose (2 ml) by deep intramuscular injection in the neck muscles and according to the following schedule:
First injection at 45 days before the expected parturition date.
Second injection 35 days thereafter (corresponding to 10 days before the expected parturition date).
Third injection 62 days after the second injection (equivalent to 52 days post-parturition).
The full immunisation program should be repeated with each gestation.
Please note, we offer payment terms for approved businesses. To apply, please complete and submit the application form.