Terramycin Aerosol 4G 150ml
R118.66 Excl. Vat
In stock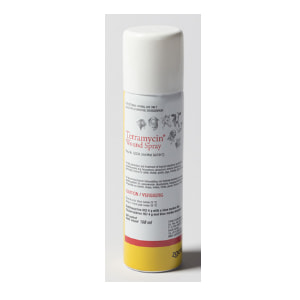 Product description
Terramycin Wound Spray is a topical oxytetracycline.
COMPOSITION: Terramycin Wound Spray contains 4 g of oxytetracycline hydrochloride with a blue marker dye per 150 ml can in an aerosol propellant.
Terramycin Wound Spray is suitable for use in cattle, sheep, goats, pigs, horses, dogs, and cats.
DIRECTIONS FOR USE: Terramycin Wound Spray is recommended only for topical application.
Shake bottle well before use.
Hold can 15 – 20 cm from the topical area to be treated and administer the spray in bursts of one or two seconds duration.
Apply one or more times per day depending on the animal's interference and environmental conditions.
PRECAUTIONS: The container is pressurised – do not expose to heat or sunlight. Do not puncture or incinerate even when empty.
Read more about this product here.