Topline Pour-On 5L
R1706.41 Excl. Vat
Out of stock (Can be placed on backorder - price may vary/change)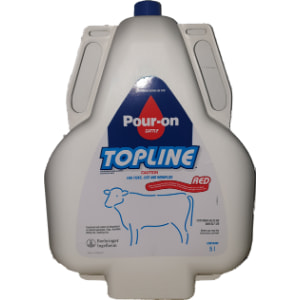 Product description
One of the most used cattle tick treatment products, Topline cattle dip is available in 5 litre bottles.
COMPOSITION: Fipronil 10 mg/mℓ, Red Diazoic dye 0.4 mg/mℓ, Excipients qs 100 mℓ.
INDICATIONS: TOPLINE is a broad spectrum ecto-parasiticide with long-lasting efficacy against ticks for up to 6 weeks and lice and hornflies for up to 4 weeks.
TOPLINE is indicated for the treatment and control of infestations of the following external parasites on cattle:
Ticks: Amblyomma spp – A. hebraeum – A. variegatum Hyalomma sp Rhipicephalus spp – R. (Boophilus) microplus – R. (Boophilus) decoloratus – R. appendiculatus – R. evertsi.
Hornflies: Haematobia irritans.
Biting lice: Damalinia bovis.
Suckling lice: Linognathus vituli.
STORAGE: Store at or below 30 °C in a cool, dry place, protected from light.
DOSAGE AND DIRECTIONS FOR USE: Use only as directed.
Topical application only.
Do not administer by the oral or injectable route.
Ready for use.
Administer only by topical application at the dose rate of 1 mℓ per 10 kg of bodyweight (providing 1 mg fipronil/kg of bodyweight).
The product should be applied by pouring along the backline in a narrow strip extending from the withers to the tailhead.
The interval between treatments must be at least two months.
Find out more about this product here.
Please note, we offer payment terms for approved businesses. To apply, please complete and submit the application form.