Tramizan 10L
R1634.55 Excl. Vat
In stock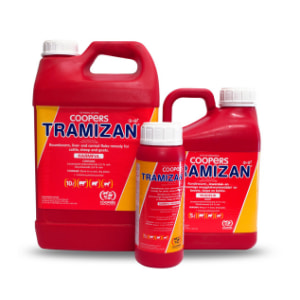 Product description
CONTAINS: Levamisole hydrochloride 2,5 % m/v; Oxyclosanide 3,4 % m/v.
WARNINGS: ALLOW 7 DAYS BETWEEN LAST TREATMENT AND SLAUGHTER FOR HUMAN CONSUMPTION. No worm remedy, not even Tramizan, should be dosed to sheep and goats that have not been immunised against pulpy kidney (enterotoxaemia). In a low percentage of high-producing dairy cows the following transient reactions may be noted: diarrhoea, salivation and swelling of the head. In case of poisoning call a doctor and make this information available. Keep out of reach of uninformed persons, children, and animals. Although this remedy has been extensively tested under a large variety of conditions, failure thereof may ensue as a result of a wide range of reasons. If this is suspected, seek veterinary advice and notify the registration holder.
DIRECTIONS FOR USE: USE ONLY AS DIRECTED SHAKE WELL BEFORE USE. Tramizan may be dosed to all cattle, sheep, and goats without any pre-dosing starving or change of diet.
DOSAGE:
Cattle: 15 mℓ/50 kg body mass.
Sheep and goats: 3 mℓ/10 kg body mass.
Cattle, sheep and goats (Paramphistomum spp.): 3 mℓ/10 kg body mass followed by a second dose 72 hours later.
Please note, we offer payment terms for approved businesses. To apply, please complete and submit the application form.