Vibrin 100ml
R1186.82 Excl. Vat
In stock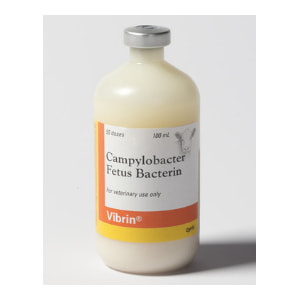 Product description
INDICATIONS: A vaccine used in healthy cattle as an aid in preventing campylobacteriosis (vibriosis) caused by Campylobacter fetus.
DIRECTIONS FOR USE: Use only as directed. Vaccination of healthy cows and heifers is recommended. Shake before use. Aseptically administer 2 ml subcutaneously in the upper part of the neck. A single dose is effective and there is no advantage in using 2 injections.
Primary vaccination: Administer a single 2 ml dose to all breeding cows and heifers between 30 – 60 days before breeding. Pregnant animals can be safely vaccinated.
Revaccination: Annual revaccination with a single dose is recommended between 30 and 60 days before breeding.
STORAGE: Store between 2 °C and 7 °C. Do not freeze. Do not expose to direct sunlight.
Read more about this product here.
Please note, we offer payment terms for approved businesses. To apply, please complete and submit the application form.