Gcs-Dog Omega Liquid 250ml
R270.00 Excl. Vat
Out of stock (Can be placed on backorder - price may vary/change)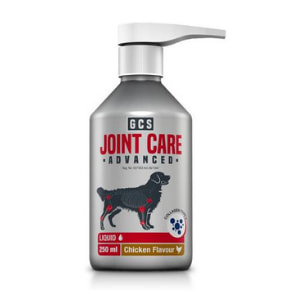 Product description
Oral Liquid 250mL
INDICATIONS: This is a nutritional supplement that aids in the management of degenerative joint conditions in dogs.
DOSAGE: Just pump onto the food. The tasty chicken-flavoured liquid is loved by dogs. Will provide your dog with highly effective joint support.
It's fitted with a pump that delivers 2.5ml with each pump action for easy measuring. Now, healthy joints are just a pump away!
For the first 14-21 days administer double the daily maintenance amount.
Weight Maintenance dosage:
Up to 5 kg – 1.25 ml
6 – 10 kg – 2.5 ml
11 – 20 kg – 5 ml
21 – 30 kg – 7.5 ml
Over 30 kg – 10 ml
Over 40 kg –  give a maximum of 20ml per day.
COMPOSITION: Per 5 ml (2 pumps). Glucosamine HCL 600mg, Chondroitin Sulphate 240mg, MSM 250mg, Omega-3 250mg, Vitamin C 50mg, Vitamin E 50mg, Manganese sulphate 2.5mg.