Laxapet 50g
R87.58 Excl. Vat
Out of stock (Can be placed on backorder - price may vary/change)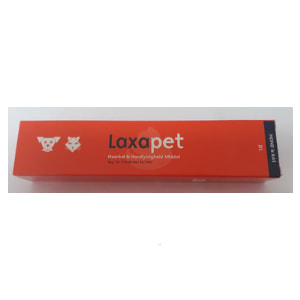 Product description
LAXAPET is an effective laxative especially formulated for dogs and cats. It is a highly palatable malt-based gel that provides supplemental vitamins, fish oil, and lecithin. Cats and dogs find its taste almost irresistible.
COMPOSITION: Each 5g of Laxapet contains petrolatum BP 2g, lecithin 25mg, fish liver oil 65mg, vitamin A 800iu, thiamine HCL 0.25mg, riboflavin 0.15mg, pyridoxine HCl 0.2mg, cyanocobalamin 0.5mcg.
DIRECTIONS FOR USE:
Cats: 2.5g to 5g per day for two to three days, then 1 to 2.5g three times weekly (2.5g is about 6.5cm gel squeezed out). Squeeze directly from the tube onto the cat's nose, tongue, or front paw – it will be readily licked off.
Dogs: Use double the cat dosage administered directly into the dog's mouth or mixed into food. Repeat when necessary.