Mirracote With Biozinc 200ml
R139.03 Excl. Vat
Out of stock (Can be placed on backorder - price may vary/change)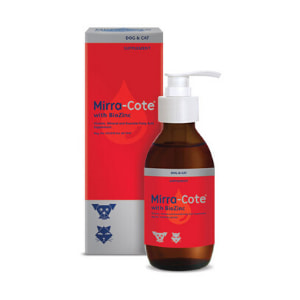 Product description
Mirra-Cote® with BioZinc has an Omega 3:6 ratio of 5:1. This means that more Omega-3 is available, which may help to attenuate inflammatory skin conditions.
INDICATIONS: For the treatment of animals with dull coats and poor coat condition. For supplemental use in pruritis and for dry, scaly skin.
COMPOSITION: Each 5ml contains: Linoleic acid, Linolenic acid, EPA (eicosapentaenoic acid), DHA (docosahexaenoic acid), Biotin 100mcg, Zinc Sulphate 12mg, Vitamin A 121 i.u. Vitamin D3 121 i.u. Vitamin E 1.1 i.u. BHA (as antioxidant) 0.75mg, Inositol 1 mg. Also contains Evening Primrose Oil (a source of linoleic and gamma-linolenic acid), flaxseed oil (source of alpha-linolenic acid), wheat germ oil, marine fish oil and lecithin.
Mirra-Cote ® yields an optimum Omega-6 to Omega-3 ratio 6 of 10:1 6.
DIRECTIONS FOR USE: To be given daily, mixed in food or directly.
Cats, small dogs: ¼ – ½ medicine measure (1 – 2 pump strokes).
Medium to large dogs: ¾ – 1 medicine measure (3 – 5 pump strokes).