Quadrepel 5L
R860.42 Excl. Vat
Out of stock (Can be placed on backorder - price may vary/change)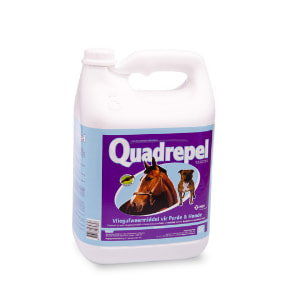 Product description
COMPOSITION: Cypermethrin 0,250 % m/v, Piperonyl butoxide 1,250 % m/v, Natural plant oils 0,025 % m/v, Lanolin 1,000 % m/v.
WARNINGS: Avoid breathing of spray mist. Prevent contamination of food, food utensils, grazing, drinking water, rivers, drains, etc.
DIRECTIONS FOR USE:
Ticks – Can be used as a spot treatment, spray or be applied for total body protection.
Mosquitoes – Apply a total body treatment daily to horses. Horses can be ridden or worked immediately after application.