Royal Canin Yorkshire Terrier Junior 1.5kg
R263.44 Excl. Vat
Out of stock (Can be placed on backorder - price may vary/change)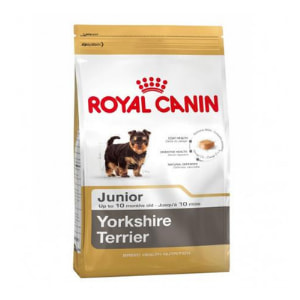 Product description
This Exclusive Kibble has been developed to be perfectly adapted to the jaw of the Yorkshire Terrier junior. It makes it easier for the Yorkshire Terrier junior to pick up and encourages him to chew.
BENEFITS:
Coat Health: The Yorkshire Terrier's coat is known for its continuous growth and natural softness. This exclusive formula helps maintain the health of the Yorkshire puppy's long coat with biotin, Omega-3 fatty acids (EPA & DHA), and Omega-6 fatty acids.
Digestive Health: Digestive health is essential during the puppy's growth period since the digestive system is not yet fully developed and cannot absorb nutrients in the same way as adult dogs. Yorkshire Terrier Junior helps support digestive health and helps to maintain balanced intestinal flora.
Natural Defenses: During the growth period, the puppy's natural defenses are not yet fully developed. Yorkshire Terrier Junior contains prebiotics and an exclusive complex of antioxidants (vitamins E and C, lutein and taurine) to help support the puppy's natural defenses.