Frontline Plus for Cats
R84.21 Excl. Vat
In stock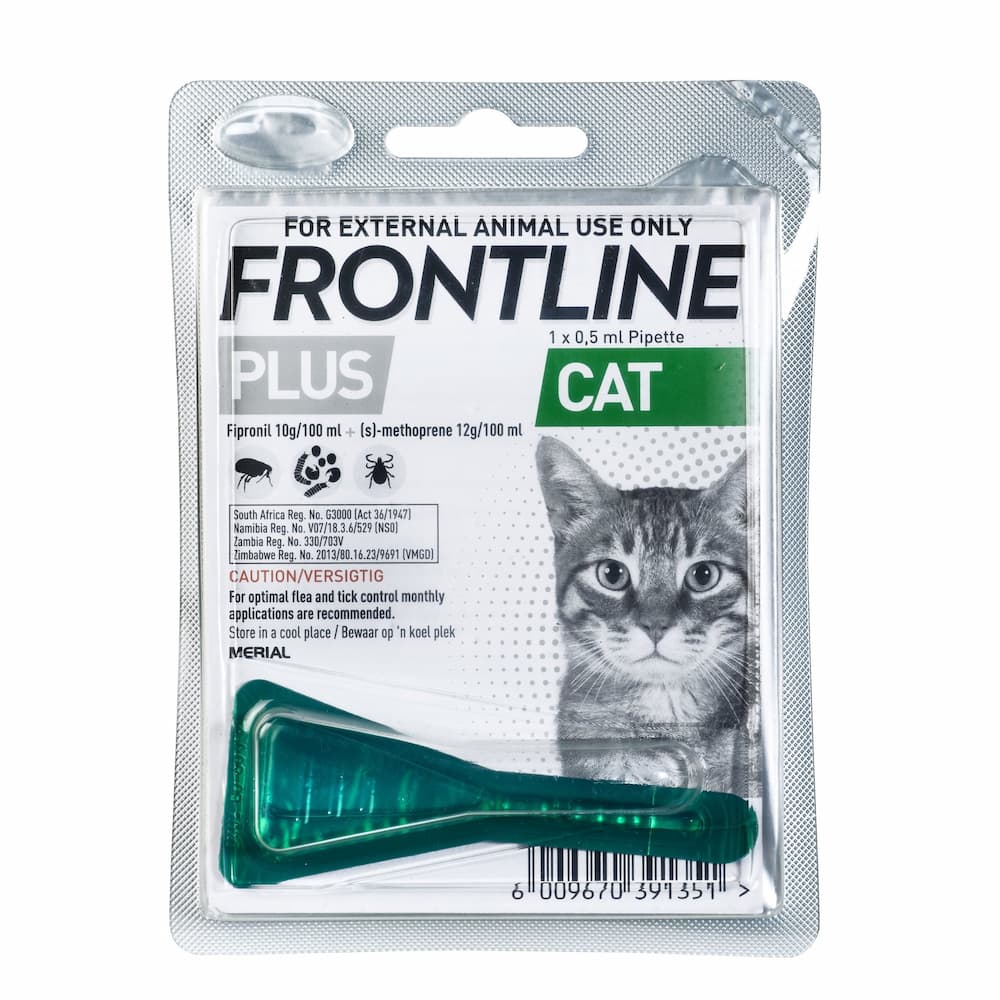 Product description
COMPOSITION: Fipronil 10g, (s)-methoprene 12g, butylhydroxyanisole 0.02g, butylhydroxytoluene 0.01g, excipient q.s 100ml.
INDICATIONS:
For the treatment and prevention of tick and flea infestation and as an aid in the control of flea-allergic dermatitis on cats.
Prevention of the development of flea eggs (ovicidal) produced by adult fleas for 6 weeks after application, and that of larvae and pupae produced by fleas for 6 weeks.
Residual effect: A single dose provides protection against new infestations with adult fleas for up to 5 weeks and against new infestations of ticks for up to 4 weeks.
WARNINGS: Keep out of reach of children, uninformed persons, and animals. Do not treat kittens younger than 8 weeks of age Although this remedy has been extensively tested under a large variety of conditions, failure thereof may ensue for a wide range of reasons. If this is suspected, seek veterinary advice and notify the registration holder.
PRECAUTIONS: Avoid contact with hands or any other part of the body. Wash hands with soap and water after use. Do not drink, eat or smoke while handling the product. Dispose of the empty pipette with domestic refuse.
DOSAGE AND DIRECTIONS FOR USE:
By application onto the skin.
One pipette of 0.5ml per cat (up to 8kg).
Monthly applications are recommended where there is a high risk of re-infestation if the pet is allergic to fleas, or in situations where tick control is needed.
For this control to be effective all dogs and cats in the household should be treated simultaneously.
It may be used on pregnant and lactating females and on unweaned kittens from 8 weeks and older.
METHOD OF APPLICATION:
Bathing or shampooing the animal 3 days before or 3 days after the application is not recommended as this will decrease the duration of activity.
Break the snap-off top from the pipette along the dotted line.
Part the hair between the shoulder-blades until the skin is visible.
Place the tip of the pipette on the skin and squeeze several times to empty the contents directly onto the skin, preferably at two spots.
Care should be taken to avoid excessive wetting of the hair since this will impart a sticky appearance to the hair at the treatment spot. However, should this occur, it will disappear within 24 hours post-application.
The active ingredients will spread over the coat of the animal within 24 hours.