Lumpyvax
R493.35 – R1418.19 INCL VAT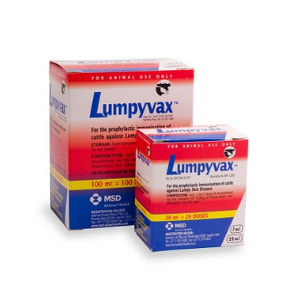 Product description
COMPOSITION: Each 1 ml (1 dose) of vaccine contains 104 TCID50 of freeze-dried, live, attenuated virus (SIS type).
WARNINGS: DO NOT SLAUGHTER ANIMALS FOR HUMAN CONSUMPTION WITHIN 7 DAYS OF VACCINATION.
DIRECTIONS FOR USE: Use a sterile syringe to transfer approximately 5 mℓ of sterile diluent to the bottle containing the freeze-dried vaccine. Mix until all the powder is dissolved and then transfer this suspension back to the remaining sterile diluent and again mix well using the sterile syringe. Shake the bottle before filling the syringe.
DOSAGE: Inject 1 ml per animal subcutaneously.
PRESENTATION:
20 ml (20 doses)
100 ml (100 doses)
Please note, we offer payment terms for approved businesses. To apply, please complete and submit the application form.
Customers Also Bought...