Aquadent 250ml
R151.87 Excl. Vat
Out of stock (Can be placed on backorder - price may vary/change)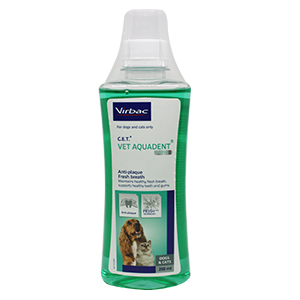 Product description
Oral hygiene solution for cats & dogs. A pleasant tasting water additive that helps control plaque and decrease bad breath.
EASY TO USE: Simply add the solution to fresh drinking water.
COMPOSITION: Erythritol 2%, Inulin 0.5%, Pomegranate 0.035%.
DIRECTIONS FOR USE: Shake before using; First pour recommended dose into an empty bowl then add 250ml of drinking water for every 2.5ml of product using the dosing cup. Provide additional non-treated water as needed. Discard any treated water not consumed within 24 hours. Prepare fresh Aquadent solution each day.