EpiOtic Ear Cleanser 125ml
R271.19 Excl. Vat
Only 2 left in stock (can be backordered)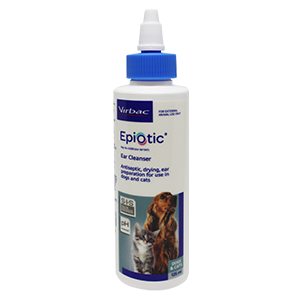 Product description
A well-tolerated, efficient ear cleanser that facilitates the removal of cellular debris and excessive wax, as well as the drying of the ear canal.
COMPOSITION: Disodium EDTA 0,5% m/v, salicylic acid 0,2% m/v, PCMX (parachlorometaxylenol) 0,2% m/v, Docusate sodium 0,5% m/v, monosaccharide complex (rhamnose, galactose, mannose) 0,15% m/v.
Recommended for the routine cleansing of ears in dogs and cats.
EPI-OTIC Advanced Ear Cleanser offers all of these advantages to keep ears in the clear:
Neutralizes bad ear odors so ears smell better.
Neutral pH, gentle enough for frequent use.
Cleansing action helps emulsify and remove wax.
Drying discourages a moist environment.
The keratolytic formula helps remove dead cells and debris.
Non-irritating, well tolerated by sensitive skin.
Innovative glycotechnology reduces the ability of microorganisms to bind to the skin.
Reduces the release of inflammatory mediators.
DIRECTIONS FOR USE: Twist the nozzle to open the bottle. Aim the cannula into the ear canal and squeeze the bottle. Epi-otic should be liberally applied and the ear gently massaged. Accessible parts of the ear should be cleaned with cotton wool soaked in Epi-otic. Ensure that the tip is cleaned after use in each ear. This will prevent cross-contamination if an infection is present. For routine cleansing, Epi-otic may be used once or twice a week. For pre-treatment, use Epi-otic before application of other therapies.
COMPOSITION: Lacting acid 2.5%, Salicylic acid 0.1% in a propylene glycol-based solvent.