Nurture Calm Collars Dog
R383.02 Excl. Vat
Out of stock (Can be placed on backorder - price may vary/change)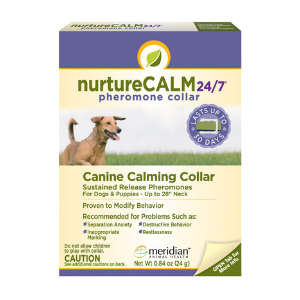 Product description
Proven to effectively treat behavioural problems in pets due to stress, anxiety, and phobias – such as aggressive or anti-social behaviour, inappropriate marking or urinating, and separation anxiety.
BENEFITS:
Effective for pets who suffer from anxiety due to travel, thunderstorms, fireworks, and social interaction.
Helps ease rescued or adopted pets as they acclimate to a new environment.
Also works to prevent the formation of bad habits as a result of anxiety.
An effective first-line intervention, often eliminating the need for powerful prescription medications.
Can be used without long-term side effects.
Can be used with cats and dogs of all breeds and ages.