Vit Aid Inject (Cattle/Bees) 100ml
R242.52 Excl. Vat
In stock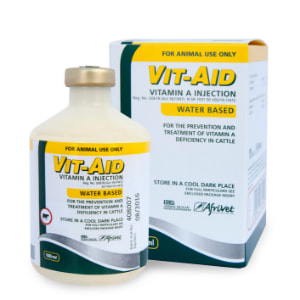 Product description
COMPOSITION: Each mℓ of VIT-AID contains 5000 000 i.u. Vitamin A and 50 i.u. Vitamin E.
WARNINGS: DO NOT USE ON HORSES. Keep out of reach of children, uninformed persons, and animals. Although this remedy has been extensively tested under a large variety of conditions, failure thereof may ensue as a result of a wide range of reasons. If this is suspected, seek veterinary advice and notify the registration holder.
DIRECTIONS FOR USE: USE ONLY AS DIRECTED. VIT-AID Vitamin A Injection is injected intramuscularly with a 15 – 18 gauge needle of 4 – 5 cm length. The application should be made in a well-fleshed area, preferably in the neck muscle. Use clean sterilised needles and syringes and also disinfect the site of injection and bottle cap with alcohol or other disinfectants. A standard dose of 1 mℓ/250 kg body mass (viz. 2 000 i.u. per kilogram body mass) is recommended for cattle for every period of three months.
Cattle: Adults (+- 500 kg body mass): 2 mℓ per head.
Weaners (+- 250 kg body mass): 1 mℓ per head.
IMPORTANT: Under intensive farming conditions, the Vitamin A needs may be much higher, but consult an animal health nutritionist or veterinarian before dosages are increased. N.B. Do not depart from the above dosages without consulting an animal nutritionist or veterinarian.
STORAGE: Store partially used bottles in a refrigerator. Store in a cool dark place.
Please note, we offer payment terms for approved businesses. To apply, please complete and submit the application form.