Kyro B Plus Liver 100ml
R144.18 Excl. Vat
In stock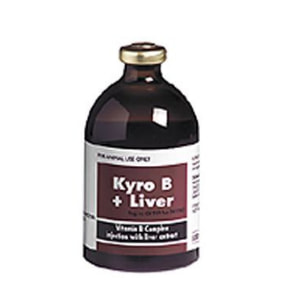 Product description
COMPOSITION: Each ml contains: Thiamine hydrochloride 20 mg, Riboflavin 5 mg, Pyridoxine hydrochloride 10 mg, Cyanocobalamin 100 mcg, Nicotinamide 20 mg, Pantothenic acid 5 mg, Choline chloride 2 mg, Liver Extract 60 mg. Preserved with 2% benzyl alcohol.
INDICATIONS: As supportive therapy in the treatment of debilitation and suspected B vitamin deficiencies in all animals. For stimulation of various liver functions. Choline is a lipotropic agent which can prevent or cure fatty infiltration of the liver.
DOSAGE: Intramuscular/Subcutaneous routes.
Dogs: 0,5 – 10 ml
Cats: 0,5 – 2 ml
Bovine and Equine: 10 – 25 ml
PRESENTATION: 100 ml amber glass multidose vials.
STORAGE: Store in a cool place (below 20 °C) protected from light.